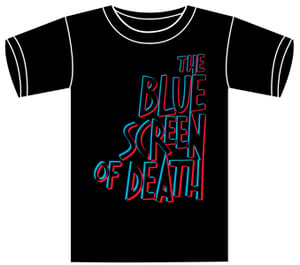 £

5.00 - On Sale
Obtain instant sex-appeal with a bad-ass Black BSOD Tshirt.
Black "Gildan Heavy Cotton" Tshirt.
Available in Small, Medium and Large.
A note to all Girls, Ladies and effeminate Men;
We currently do not stock Ladies-fit Tshirts. This is not an act of misogyny. It is based purely on the fact that previous sales of mens Tshirts far outnumbered those of Lady-fits. However, if we receive enough emails from angry people demanding Ladies-fit sizes, we may consider getting some made, so feel free to email info@thebluescreenofdeath.co.uk and have a rant.